The 2010 GTA Spano features a glass roof. This innovative feature is complimented by a unique lighting and opaqueness system. The chassis of the vehicle is made from a combination of carbon fiber, titanium and Kevlar. The car's composition and general form is inspired by aeronautic technology. It is equipped with a rear mounted 8-liter supercharged V10 engine producing an outrageous 780 horsepower, kept in check using a six speed sequential manual transmission or a semi-automatic paddle shift transmission similar to those used in F1 racecars. These features make the GTA Spano the fastest, road legal automobile in Spain, since it can accelerate from 0 to 100 Km/h in just 2.9 seconds, achieving a top speed of over 350 Km/h. An AP Racing Carbon-Ceramic braking system is equipped on the vehicle. This includes a forced ventilation system, 6 piston brake calipers and an ABS system.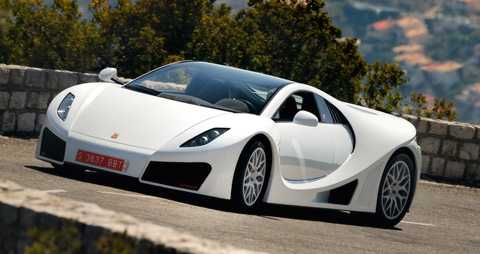 GTA Motors wanted a concept that emulated competitiveness, uniqueness and sophistication. They wanted to design a car that has not been seen to date. Their aim to produce such a revolutionary automobile certainly paid off.
Examining the side of the car, one can see that the doors fit flawlessly into the air intakes. Also, the doors do not have handles and access into the vehicle is achieved by pressing the GTA logo. This layout assists in aerodynamics and lowers the temperature of certain parts of the car such as power steering, brakes and oil coolers to name a few.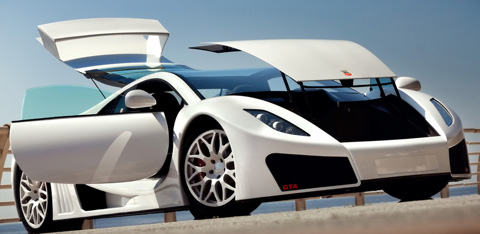 The front of the car dictates a strong and smooth image, observed from the huge side-mounted air intakes and its rounded hood. The rear of the car is characterized primarily with the use of glass, which improves air flow under the car and cools down the engine. There are two additional air intakes at the rear and the vehicle uses a twin muffler system, highlighting the vehicle's racing capabilities. A set of four custom-made, angled rims are mounted around the car; 19 inches at the front and 20 inches at the rear using Pirelli P Zero tires. Only 99 units of this supercar will be produced and exclusively distributed.