The Hulme CanAm is named after Denny Hulme, New Zealand's racing prodigy and F1 World Champion. It is the only road-legal supercar to carry the name of an F1 Champion, and it doesn't disappoint. The vehicle is said to achieve speeds of above 200 mph, and comes in the form of a high-performance mid-engine roadster. The car is intended for use both in open roads and the racetrack, combining raw power, outstanding craftsmanship, extraordinary performance, and is guaranteed to provide any driver with an exhilarating driving experience.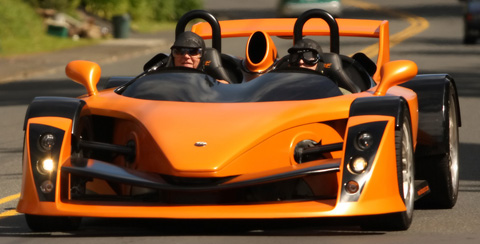 Under the hood of the Hulme CanAm is a 7-liter Chevrolet LS7 V8 Engine, producing a monstrous 600 horsepower balanced out by 600 Nm of torque. Control for this whopping amount of power is accomplished via a close-ratio, six-speed CIMA manual transmission, where paddle or sequential transmission is also an option. Due to the construction of the vehicle, the car weighs less than a ton, and 600 hp for a lightweight car means that the Hulme CanAm can accelerate from 0 to 100Kph in less than three and a half seconds.
Despite the incomparable performance values of the vehicle, the guiding principle maintained by Hulme engineers in designing the car has been to focus on driving enjoyment. Power distribution and aerodynamics maximize the car's handling on either the road or a racetrack. The Hulme Can Am is developed and hand-crafted by the Hulme technology team, and their design paid off in granting the car a lightweight carbon composite chassis and body, along with racing tuned suspension and braking.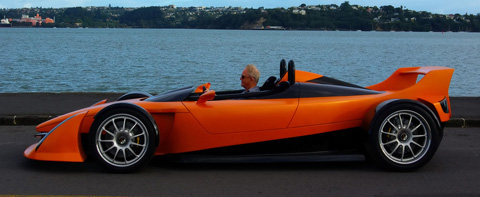 Each Hulme CanAm Bear 1 Test Car costs a deposit of £10,000 for an option to order. An enthusiast would want to take note of the fact that only 20 of these supercars from New Zealand will be put into production. The managing director of Hulme, Jock Freemantle, guarantees that the deposit is fully refundable if the option is not escalated into an order, or if the order for this supercar is not satisfied. Before the car is introduced at the 2011 Goodwood Festival of Speed, a private viewing and test drive will be made available to those who have purchased an option to order the vehicle. If the potential buyer is not satisfied and wants to cancel the option to order, his funds will be immediately refunded