The exterior of the 302 Ford Mustang is strikingly unique and iconic. The new sculpted look is both rounded and sharp at once. The hood sets the car apart from the rest with its chrome trimmed heat extraction grilles. The sculpted front fascia, with brake ducts, applies a high volume lower radiator intake. For supercharged models, an integrated front splitter with ducting is available. The new side skirts reflect the spear shape of the fenders and flows perfectly into the sculpting of the rear fascia. The rear is given a longer silhouette thanks to the integrated rear fascia, fenders and trunk lid spoiler.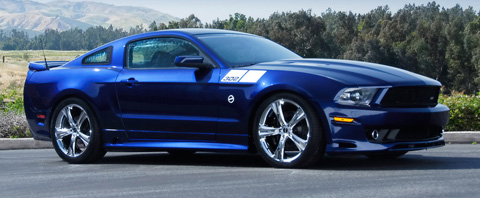 The 302 Ford Mustang is open to tailor-made options from SMS. Owners can choose from show car color options such as Pineapple Express Yellow, Sour Grape Green, Tire Smoke White and Burnout Black to name a few. The owners can customize further by color-coordinating the seats and the chevron stripes and stitching.
The interior totally complements the exterior of the 302 Ford Mustang. Alcantara leather SMS performance seats are designed with patented Signature Series chevron stripes and two-tone leather inserts. A leather-wrapped shift knob and steering wheel distinguishes this car from the rest. The instrument panel features a supercharger gauge pod aside from the 200 mph gauge cluster and temperature gauges.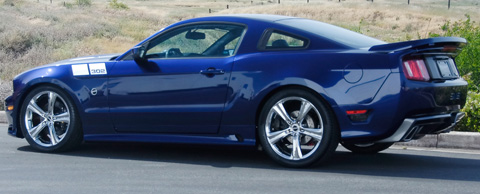 Specifications
- Engine: 5 liter DOHC V8
- Aspiration: natural and supercharged
- Horsepower: 440 hp (302 4V model) and 535 hp (302SC model)
- Torque: 400 lb-ft (302 4V model) and 450 lb-ft (302SC model)